The Selden K. Smith Holocaust Collection
---
Richland Library welcomes items from the personal Holocaust collection of Dr. Selden K. Smith. Housed primarily at Richland Library Main, the collection features over 250 items including biographies, histories, religious texts, and even cookbooks.
Click here for more information
Thank You!
---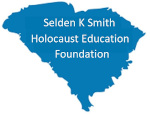 The Selden K. Smith Holocaust Education Foundation would like to thank all our donors for their generosity and continued support during our 2023 Midlands Gives Fundraiser. Your dollars support classroom resources, field trips, speakers, exhibits, teacher training, community events, and more. By teaching the lessons of the Holocaust, we strive to make our community and our world a more just, compassionate and tolerant society.
We truly appreciate your sharing our vision and joining in our mission.
If you missed our campaign, you can still donate via this link (https://www.midlandsgives.org/holocausteducationfoundation) or on our "donate tab"
SKS Holocaust Education Foundation Grant Application
The SKS Holocaust Education Foundation provides grant funding for Holocaust educational projects and teacher training within South Carolina. Grants are awarded to teachers, schools, universities and organizations. Projects funded include classroom books, student field trips, teacher training and workshops, Holocaust speakers, films, exhibits and other related Holocaust educational programs To apply for a grant, please fill out the grant form provided HERE.
---